May 13th, 2020 NMSR Meeting: Holly Olivarez on "The connection between Climate Change & COVID-19"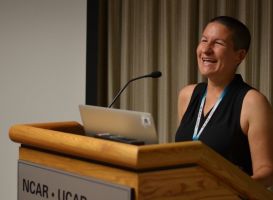 As a scientist at CU Boulder, Holly studies the ocean and climate change; specifically, the absorption of carbon dioxide (CO2) by the ocean. To learn more about the speaker and this event, visit ClimateChangeTalks.com.
7:00 PM May 13th, 2020, Video of the Presentation.

Taxpayers on the hook for UNM Bigfoot expedition? Rob Kryder talked to NMSR on January 14, 2017. SEE MEETING SUMMARY.
In addition to the Washington D.C. event, science marches are scheduled all over the country, and all over the world. Here in New Mexico, marches have been organized by groups in Albuquerque, Santa Fe, Socorro and Las Cruces. At NMSR's April 12th meeting, representatives from some (we hope all) of these groups will describe what their cities are planning for Earth Day, to follow ten days later (April 22nd,2017). Mark your calendars!
7:00 PM April 12th, 2017, on CNM Main Campus, STUDENT RESOURCE CENTER (SRC), room 204.
Dave Thomas is presenting a talk at this year's CSICON 2016 meeting, in Las Vegas, NV. His topic is "War of the Weasels: An Update on Creationist Attacks on Genetic Algorithms," and will be given in the Sunday morning session, October 30th, 2016.
Abstract: Since Genetic Algorithms (GAs) are a class of computer programs that use evolutionary principles to "evolve" answers to difficult problems in math, physics, engineering and biology, they are a prime target of creationists of all varieties. This talk will trace the evolution of creationist attacks on GAs, from saying that they all need the final answers fed to them at every step (like Dawkins' Weasel experiment), to claiming that "active information" is being secretly introduced into GAs, and finally to the preposterous definition of "Specified Complexity," the claim that examples of evolving complexity don't even count unless they meet the absurd criterion of being as uncommon as tossing a fair coin heads up 500 times in a row. The game is rigged from the very start: evolution can never win under the rules adopted by "Intelligent Design".
Ken Ham calls his 510-foot-long "full-size Ark" "the largest timber-frame structure in the US."
Well, that claim is just plain false. We New Mexicans get the chance to see an even larger timber-framed structure, visible from aircraft close to the Albuquerque International Airport.That 600-foot-long-plus structure is called ATLAS-I, also known as the TRESTLE. It is made entirely of wood - even the bolts are wooden or dielectric. It was using for EMP testing back in the day. In this animation (thanks, Python!), the TRESTLE appears in white, and the Ark (to scale) in green.
Media Matters reports that talk-show host Rush Limbaugh said on his May 31st, 2016 show:
New Mexicans for Science and Reason has been proudly on its own for 25 years. But it had its origin in a national and even international movement to help spread science-based skepticism around the country and the world.